It's Tuesday, which means it's time for a new batch of book releases! Here are a few of the books out today you should add to your TBR. This is a very small percentage of the new releases this week, though, so stick around until the end for some more Book Riot resources for keeping up with new books, including our YouTube channel, where I talk about each of these! The book descriptions listed are the publisher's, unless otherwise noted.
Five Tuesdays in Winter by Lily King
For the first time ever, award-winning author Lily King collects ten of her finest short stories—half published in leading literary magazines and half brand new—opening fresh realms of discovery for avid and new readers alike.
Told in the intimate voices of unique and endearing characters of all ages, these tales explore desire and heartache, loss and discovery, moments of jolting violence and the inexorable tug toward love at all costs. A bookseller's unspoken love for his employee rises to the surface, a neglected teenage boy finds much-needed nurturing from an unlikely pair of college students hired to housesit, a girl's loss of innocence at the hands of her employer's son becomes a catalyst for strength and confidence, and a proud nonagenarian rages helplessly in his granddaughter's hospital room. Romantic, hopeful, brutally raw, and unsparingly honest, some even slipping into the surreal, these stories are, above all, about King's enduring subject of love.
Lily King's gift for creating lasting and treasured characters is on full display in this curated selection of short fiction. Five Tuesdays in Winter showcases an exhilarating new form for this extraordinarily gifted author writing at the height of her career.
Reasons to read it: If you loved King's other works, Writers & Lovers and Euphoria, you're sure to love the stunning prose presented in all ten of these short stories, which often feature adolescent protagonists making vital life discoveries.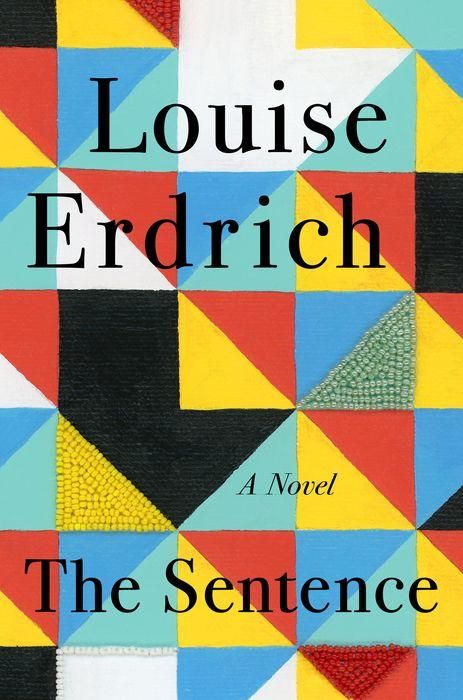 The Sentence by Louise Erdrich
In this powerful and timely novel, National Book Award winning author Louise Erdrich explores how the burdens of history, and especially identity, appropriation, exploitation, and violence done to human beings in the name of justice, manifest in ordinary lives today.
Revolving around a small independent bookstore in contemporary Minneapolis, The Sentence follows a turbulent year in the life of a strong though vulnerable Ojibwe woman named Tookie.
After serving part of an outrageously long sentence, Tookie, who "learned to read with murderous attention" while in prison, naturally gravitates toward working at a bookstore. There she joins a dedicated community of artists and book lovers and begins to build a new life for herself.
When Flora, the store's most persistent customer, suddenly dies, her ghost refuses to leave. Flora returns on All Soul's Day to haunt the bookstore and in particular, Tookie. Why? The mystery of this revenant's appearance leads Asema, a fellow Ojibwe bookseller, and Tookie to a shocking personal discovery with historical reverberations. Tookie finds that this year of disease, violence, and political upheaval is, on a worldwide scale, a year of ghosts and hauntings.
A complicated love finds Tookie as well when Pollux, who has been in love with her for years, proposes, and they marry. Pollux was the tribal police officer who arrested Tookie all those years ago for a crime which turned out to be more serious than Tookie knew. How Pollux and Tookie overcome past betrayal and learn to trust each other is a challenge that will either deepen or destroy their love.
The Sentence begins on All Soul's Day 2019 and ends on All Soul's Day 2020. Its mystery and proliferating ghost stories during this one year propel a narrative as rich, emotional, and profound as anything Louise Erdrich has written.
Reasons to read it: For those that want more insight into the lives of Ojibwe people. Also, for those who would like to explore very current issues — from COVID to George Floyd's murder — within a ghost story. Fun fact: Erdrich owns the bookstore in Minneapolis that this takes place in.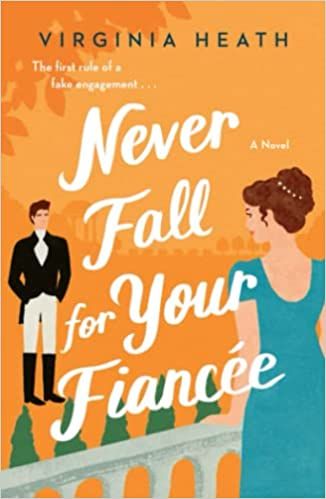 Never Fall for Your Fiancée by Virginia Heath
The first in a new historical rom-com series, a handsome earl hires a fake fiancée to keep his matchmaking mother at bay, but hilarity ensues when love threatens to complicate everything.
The last thing Hugh Standish, Earl of Fareham, ever wants is a wife. Unfortunately for him, his mother is determined to find him one, even from across the other side of the ocean. So Hugh invents a fake fiancée to keep his mother's matchmaking ways at bay. But when Hugh learns his interfering mother is on a ship bound for England, he realizes his complicated, convoluted but convenient ruse is about to implode. Until he collides with a beautiful woman, who might just be the miracle he needs.
Minerva Merriwell has had to struggle to support herself and her two younger sisters ever since their feckless father abandoned them. Work as a woodcut engraver is few and far between, and the Merriwell sisters are nearly penniless. So when Hugh asks Minerva to pose as his fiancée while his mother is visiting, she knows that while the scheme sounds ludicrous, the offer is too good to pass up.
Once Minerva and her sisters arrive at Hugh's estate, of course nothing goes according to his meticulous plan. As hilarity and miscommunication ensue while everyone tries to keep their tangled stories straight, Hugh and Minerva's fake engagement starts to turn into a real romance. But can they trust each other when their relationship started with a lie? The first book in the Merriwell Sisters series, Never Fall for Your Fiancée is a hilarious, sparkling historical romantic comedy.
Reasons to read it: For fans of historical romance, like the Bridgerton series, as well as lovers of the fake dating romance trope who like a good dose of Regency-era witty banter. This is a fun romp through the English countryside with enjoyable characters.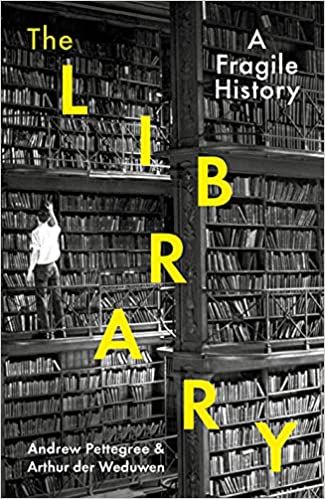 The Library: A Fragile History by Andrew Pettegree, Arthur der Weduwen
Famed across the known world, jealously guarded by private collectors, built up over centuries, destroyed in a single day, ornamented with gold leaf and frescoes, or filled with bean bags and children's drawings—the history of the library is rich, varied, and stuffed full of incident. In The Library, historians Andrew Pettegree and Arthur der Weduwen introduce us to the antiquarians and philanthropists who shaped the world's great collections, trace the rise and fall of literary tastes, and reveal the high crimes and misdemeanors committed in pursuit of rare manuscripts. In doing so, they reveal that while collections themselves are fragile, often falling into ruin within a few decades, the idea of the library has been remarkably resilient as each generation makes—and remakes—the institution anew.
Reasons to read it: Perfect for book lovers, this is a fascinating exploration of the history of libraries and the people who built them, from the ancient world to the digital age. It is beautifully written and deeply researched, and for anyone who has gotten blissfully lost in the stacks.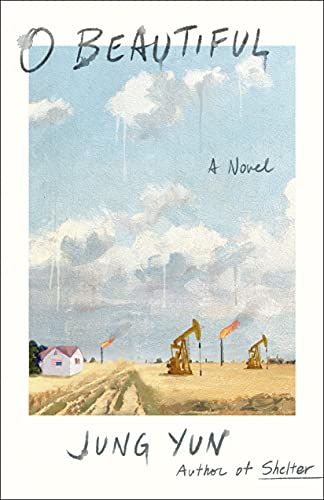 O Beautiful by Jung Yun
This is an unflinching portrayal of a woman trying to come to terms with the ghosts of her past and the tortured realities of a deeply divided America.
Elinor Hanson, a forty-something former model, is struggling to reinvent herself as a freelance writer when she receives an unexpected assignment. Her mentor from grad school offers her a chance to write for a prestigious magazine about the Bakken oil boom in North Dakota. Elinor grew up near the Bakken, raised by an overbearing father and a distant Korean mother who he met and married when he was stationed overseas. After decades away from home, Elinor returns to a landscape she hardly recognizes, overrun by tens of thousands of newcomers. Surrounded by roughnecks seeking their fortunes in oil and long-time residents worried about their changing community, Elinor experiences a profound sense of alienation and grief. She rages at the unrelenting male gaze, the locals who still see her as a foreigner, and the memories of her family's estrangement after her mother decided to escape her unhappy marriage, leaving Elinor and her sister behind. The longer she pursues this potentially career-altering assignment, the more her past intertwines with the story she's trying to tell, revealing disturbing new realities that will forever change her and the way she looks at the world.
Reasons to read it: For those that loved Shelter by the same author, as well as those who appreciate spare, yet graceful prose that examines coming to terms with one's childhood. This also offers an immersive portrait of a community rife with tensions and competing interests, with one woman's attempts to reconcile her anger with her love of a beautiful, but troubled land.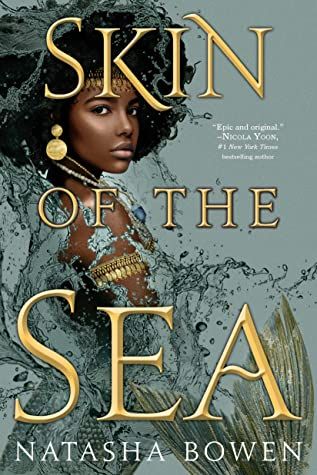 Skin of the Sea by Natasha Bowen
A way to survive.
A way to serve.
A way to save.
Simi prayed to the gods, once. Now she serves them as Mami Wata—a mermaid—collecting the souls of those who die at sea and blessing their journeys back home.
But when a living boy is thrown overboard, Simi does the unthinkable—she saves his life, going against an ancient decree. And punishment awaits those who dare to defy it.
To protect the other Mami Wata, Simi must journey to the Supreme Creator to make amends. But all is not as it seems. There's the boy she rescued, who knows more than he should. And something is shadowing Simi, something that would rather see her fail. . . .
Danger lurks at every turn, and as Simi draws closer, she must brave vengeful gods, treacherous lands, and legendary creatures. Because if she doesn't, then she risks not only the fate of all Mami Wata, but also the world as she knows it.
Reasons to read it: This fantasy debut is bursting with West African culture and mythology. It brings the Yoruba Orishas to life as well as the people who believed in them. There are these amazing details like maps being braided into hair, and you get to see the innovation of the civilization. There are also some familiar elements, like a mermaid being forced to walk on land (hint: The Little Mermaid).
Other Book Riot New Releases Resources
This is only scratching the surface of the books out this week! If you want to keep up with all the latest new releases, check out:
Book Riot's YouTube channel, where Danika and I discuss the most exciting books out every Tuesday!
All the Books, our weekly new releases podcast, where Liberty and a cast of co-hosts (including Danika!) talk about eight books out that week that we've read and loved.
The New Books Newsletter, where we send you an email of the books out this week that are getting buzz.
Finally, if you want the real inside scoop on new releases, you have to check out Book Riot Insiders' New Releases Index! That's where I find 90% of new releases, and you can filter by trending books, Rioters' picks, and even LGBTQ new releases!